Update: the NWEN website is no longer active.
The Northwest Entrepreneur Network wanted to integrate the overall look and feel of their website into the NWEN Blog design. Originally, the blog used the default WordPress theme.
I have taken the NWEN website look and feel and adapted it to become a WordPress theme which applies to the entire NWEN Blog.
The theme is standards compliant and works in Internet Explorer 6+, Firefox, Opera, and Safari.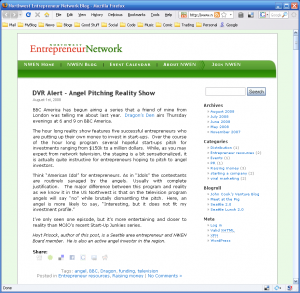 View a screenshot of the blog design or go look at it live on the NWEN Blog.