I recently acquired an Apple Airport Express with the intent of wirelessly broadcasting music/audio from my computer (one side of the room) to my home stereo system (other side of the room) using the AirTunes functionality. This has been a good solution for me as it's designed for iTunes and that's what I primarily use to play music on my computer.

First, you need to install the Airport Express. This can be a difficult process depending on your level of experience with wireless networking; if you're having trouble, visit the Apple Support page for the AirPort. To use the device, begin by running the installation software that comes with the device (or download it from Apple) on your computer. You will also need to connect the Airport Express to your stereo; for this, you can either use a 1/8″ to RCA connector or 1/8″ to Optical/Toslink connector and hook it to your stereo receiver or other audio input.

Once you've setup your wireless network and connected the Airport to your stereo, you can begin broadcasting music from your computer to your stereo using iTunes. In iTunes, check Edit->Preferences->Advanced to make sure "Look for remote speakers connected with AirTunes" is selected. In the bottom right-hand corner of the iTunes screen, a dropdown list will show the speakers iTunes is able to connect to. It will allow you to select "Computer" to play audio through your computer speakers, and the list will also include the names of any identified Airport Express connections. In my case, it shows as "Casa Express" so it's ready to play. Once I select "Casa Express," iTunes connects and begins playing audio through the speakers connected to the Airport.

This works well for playing music from iTunes; however, I also want to be able to play other file types besides MP3, AAC, and Apple's DRMed files; specifically, I want to be able to play FLAC files.
Thanks to another attendee at SaturdayHouse, I discovered Airfoil. Here's the description:
With Airfoil for Windows [or Mac] you can take audio from any application and send to your AirPort Express units, as well as Apple TVs, and even other PCs and Macs running Airfoil Speakers! Transmit audio from Winamp, RealPlayer, and other media players. Send audio from Rhapsody, Yahoo Music, and other music stores. Even web-based applications like Pandora, Last.fm, can now be transmitted wirelessly.
The good news about Airfoil is you can install a fully working demo version (Windows, Mac) in order to try it out before you buy it. I downloaded it, installed both the Airfoil for Windows and Airfoil Speakers applications.
At this point, I discovered my used AirPort Express had an outdated firmware version that I needed to update. No problem — I downloaded and ran the AirPort Express 6.3 firmware updater (Windows, Mac). (Note: The Windows version didn't work on Vista for me, but I had no trouble running the update from a Windows XP installation connected to the same wireless network.)

Now that I had Airfoil installed, I ran both the Airfoil and Airfoil Speakers applications. I then booted up Winamp (features include FLAC support) to try the wireless broadcast using a FLAC-rip of Motion City Soundtrack's album "Even If It Kills Me."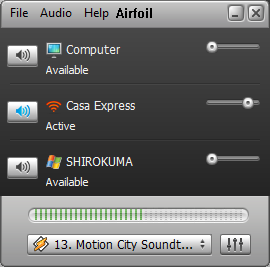 In Airfoil, I selected Winamp from the application list at the bottom of the screen. Then I clicked the volume icon next to the name for my Airport Express (Casa Express) and adjusted the volume. Airfoil informed me it needed to restart Winamp so I let it. Once Winamp loaded back up, I pressed play again and then my stereo (which was already turned on and set to the channel the Airport Express is hooked to) began to play the Motion City Soundtrack album.

In the demo version, it starts to make noise on the sound after 10 minutes. With the product fully working, I decided to give them my $25 so I can enjoy the benefits of the Airport Express with any application on my computer and not just iTunes.