I bought a used Krakauer piano in March from a family who was moving and ready to let it go.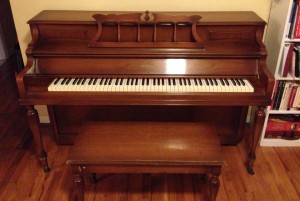 I took lessons for a few years in middle-school beginning around sixth grade. In my first year of high school, I told my mom, "I'm way too busy for this" and ceased playing or practicing — much to the regret of my older and wiser self.
For Easter this year, my mom bought me "Alfred's Basic Adult Piano Course" as it's a book she's used with adult learners in the past when she taught piano lessons. I've been enjoying it and have gotten through about one quarter of the book so far. So far I've re-learned things like timing (4/4 and 3/4), notes (quarter, half, three-quarters, full), and right and left hand starting positions (C & G). I've learned things I never knew before like several different chords (C, G, F, C Major).
My goal is to play hymns from the Cantus Christi hymnal we use at my church.
I will learn and play fun songs, too. Today, I ordered piano sheet music from Sound of Music, Super Mario Bros, and Star Wars to help me towards this end.
I'll let you know how this goes.
How To Learn the Piano as an Adult
* Step 1: Stop Waiting
* Step 2: Get a piano (or keyboard)
* Step 3: Get the piano tuned (if it's real)
* Step 4: Start Playing