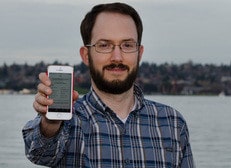 NCF Northwest wrote a profile about me and my Verses for Life iPhone app.
Read the full profile.
In 2017, Verses for Life has already attracted 2,000 downloads.  Says Freitas, "Verses for Life gives people the opportunity to learn, memorize and apply God's word in any given life situation."
I have exceeded my 2016 goals related to baking. My goals were the following:
Bake 2 pies
Bake 1 loaf of bread
Today, I made two more pies (one pecan and one pumpkin), two loaves of bread (a slow-rise wheat bread), and four rolls. I wouldn't have been able to succeed at this goal without the help of my wife.
When setting goals and working to achieve them, it's helpful to have people in your life who will encourage you in your goals, periodically ask you about your progress on them, and even work together with you to make them happen. This is true for goals at work, in the home, or in another space of your life.
Now we have plenty of bread and pie for Christmas.
Merry Christmas and happy holidays to you!